New Orangutan Sculpture For Eden's Rainforest To Highlight Habitat Loss
Posted: 08/03/2019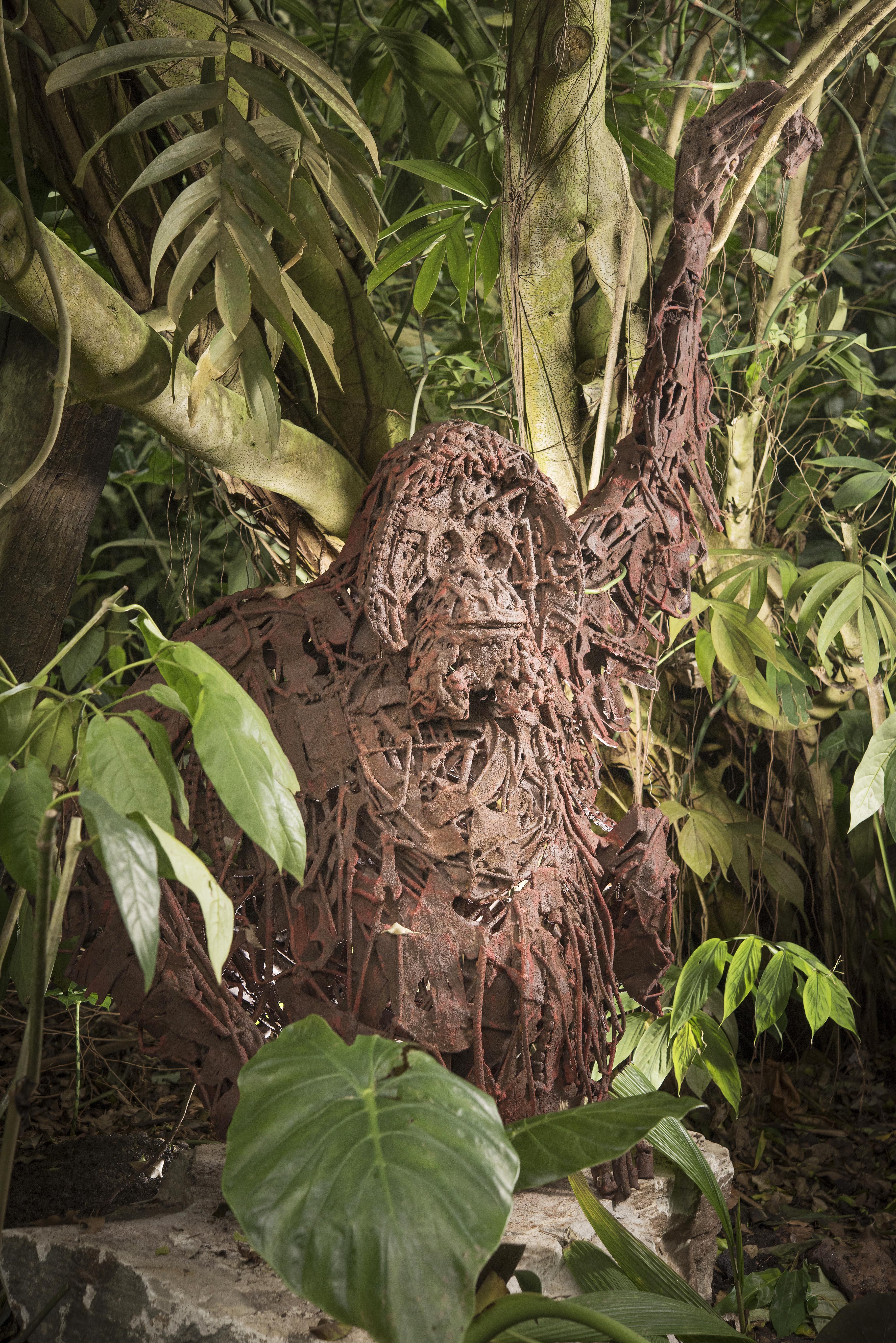 A striking orangutan made of scrap metal is the latest exhibit in the
Eden Project's Rainforest Biome
.  The arresting sculpture is the work of James Wild and has been made to raise awareness of the threat that these iconic apes face from habitat loss.  Orangutans are critically endangered as their habitat is converted to grow oil palms for use in many food and beauty products.  
James said: "We are at pivotal moment in time where the future of these extraordinary creatures hangs in the balance and it was this heart-breaking fact that drove and inspired this sculpture. I am proud to be supporting Eden on landing this critical message about the consequences unsustainable palm oil and the dangers of human consumption."  
Dr Jo Elworthy, Eden's director of interpretation, said: "This is a thought-provoking and striking addition to our Rainforest Biome. At Eden, we tell stories about how people rely on the natural world. This orangutan and the challenges it faces is a powerful symbol of the consequences of the destruction of habitats."  
James is inspired by the form and movement of nature and his ambition is to build awareness and appreciation for the wild parts of our planet and the life that inhabits them. He has completed both private and public works in the UK and overseas.  
James grew up in Cornwall and worked as an apprentice to a blacksmith where he found his love for sculpture.  Blacksmithing gave James the traditional skills and techniques of working metal and provided the platform on which James has developed and refined his unique self-taught style of working with scrap metal.  James's ambition for each sculpture is to locate the personality of each subject and express an emotion and story of a moment in the wild.  
The orangutan is a permanent addition to the Rainforest Biome and can viewed as part of standard Eden Project admission.  The Rainforest Biome is a research facility as well as a public garden. One of Eden's rainforest research themes is looking at the impacts of palm oil. See https://www.edenproject.com/eden-story/behind-the-scenes/rainforest-rese... for more information.  
The Eden Project orangutan is dedicated to the memory of Lady Mary Holborow DCVO, Lord Lieutenant of Cornwall (1994-2011), long-time supporter, friend and trustee of the Eden Project.